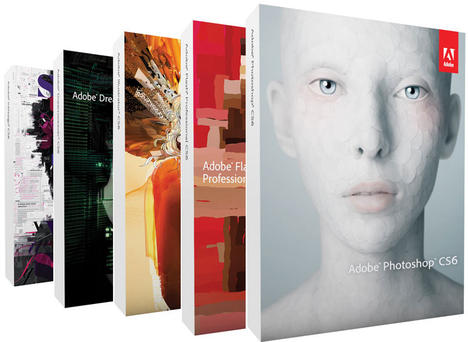 Well, it's here – I went from an upgrade to the Master Collection CS5.5, in order to qualify for a free upgrade to the Master Collection CS6. It worked perfectly, although I've seen some irate people bashing Adobe because their email qualifying them for the upgrade did not arrive. I generally find that if I have a problem with Adobe software, I can just call their support number, get through quickly, and usually have an answer in a matter of minutes. I guess your result may vary, as usual.
So what's new in the CS6 Master Collection (which by the way, I haven't installed yet – I always wait for a couple of bug fixes and finish any projects I'm working on before doing the install)? In the broadest sense, Soundbooth is gone, replaced by Audition. Flash Catalyst is gone – I was just getting up to speed with it and loving it – I'll continue to use the CS5.5 version. For video editors, you'll find a new replacement for OnLocation, called Prelude, which enables the field producer to capture footage, log it and mark in and out points, create a rough edit, then transfer that edit right into Premiere Pro CS6 – this should prove very useful for news and serial format production crews. Here's a link to a short video.
After Effects CS6 has added some killer new features, including the ability to extrude and render true 3D, right in the program. The only caveat to potential users is that you need to have a certain level of NVidia graphics card to push all those pixels, and the shapes you extrude have to be Illustrator vectors. As if that weren't enough, they've added a 3D camera tracker – I just bought The Foundry's Camera Tracker for After Effects, so I'm a bit upset about that, but I'll now get a chance to compare them side by side. For those of you shooting with DSLR's, there's a Rolling Shutter Repair plugin that, while not totally foolproof, will help you fix the jello-cam effect that comes from having moving images in your footage, or panning too quickly. But probably the best feature is one you won't have to click on – a global performance cache that will speed up your workflow considerably.
Premiere Pro CS6 is now taking the spotlight as a Final Cut Pro X killer, partly due to the cross-grade offer targeted at disgruntled FCPX users, partly due to the fact that the software is finally coming into its' own as a powerful, adaptable NLE, that works natively with just about any format you can throw at it. The feedback on the Creative Cow Premiere Pro Forum has been pretty positive, and Adobe, as usual, is pretty responsive to the various problems of users jumping over from other NLEs, or having hardware issues with drivers. The transition seems pretty smooth, but I'll find out first hand shortly, when I do my own install of the Master Collection.
I've just scratched the surface here, and haven't even got to mention all the new features and improvements in Illustrator, Photoshop, Flash, Encore, Bridge, and the other packages in the suite, but this is a blog, not a book. For a really good overview of the Creative Suite 6 titles, take a look at Adobe TV.